Kayaking is one of the most enjoyable hobbies that allows you to explore your surroundings and take in the moment. Perhaps you have rented a kayak and thoroughly enjoyed the experience so much that you are thinking of Purchasing one. Maybe you have owned one before but, because of moving restrictions you had to part with it? Or perhaps you have never tried one but want to get into the water as soon as possible! Regardless of your situation kayaking has a wide array of positive effects on both your mind and your body!
Before we start listing off the different types of kayaks that are available it is best that you ask yourself what the purpose of your kayaking trips will be. In order to do that I want you to answer these 5 questions for yourself.
Kayak Buying Guide Questions you must ask yourself.
What is your Aim of Getting a Kayak?
What goals are you hoping to accomplish while kayaking? We can usually apply this criteria to all sorts of different aspects to our lives, well this is no different. Typically when you think about purchasing a kayak you have a certain criteria or destination in mind. A thought like that would be along the lines of "I want to live a more active life outdoors" or " I want to become a better fisherman by paddling to different locations in the lake".  Perhaps you want to spend more time outdoors on the lake with the kids.
What Purpose will you be using the kayak for?
This criteria is the extension of your aim but with a more detailed view. What are you specifically using your kayak for?  A simple float at the family cabin? A Day trip around that lake that you have always wanted to explore? Perhaps you are looking to upgrade to a more serious kayak that glides through the water with less effort.
Your Area
Most likely if you live near a body of water and you landed on this article. So now you have to ask yourself where will you kayak? I am lucky enough to live in Beautiful British Columbia and am spoiled for choice when it comes to bodies of water to paddle in. I can choose to go inland for a casual paddle at Cultus lake or paddle in the somewhat secluded bay of Deep Cove North Vancouver. So what kind of kayak should I choose? Well that depends. If I am looking to do day to multi day trips I would use a touring Kayak to glide through the water quicker. However if I am just going for a causal paddle in Cultus it seems a bit over redundant to bring such a kayak to a smaller lake, especially if I am wanting to take a break and take a quick dip in the water.
Your Life Style
This criteria is the first three criteria bundled into one. So you have established what your aim, purpose and area looks like, so how are you going to fit that into your life? Will this be a once a month occurrence? Every Weekend ? Or maybe you have a cabin that you go to a few times each summer and you want a way to explore the lake? Another question is who are you paddling with? While going solo is an extremely peaceful way to be one with the water and nature, it is always nice to go with someone else both for enjoyment and safety reasons. Another factor is how much space have you got? Many people think kayak ownership is not for them because they do not have enough available space. There are ways around this as we will explain in the next section.
Your Budget
One of the biggest factors you must consider is of course your budget. Not everyone has the space nor budget to house many different types of kayaks so a lot of the time you have to choose the correct kayak that can best fit your situation. Thankfully there really has not been a better time to be looking for a kayak. The industry has taken big strides over the last 15 years with both innovation and competition which allows you to find a kayak that fits your lifestyle without breaking the bank!
Now that you have imagined in your head what you are looking for or what you want to use the kayak for I will now list your options and criteria to think about.
The Ultimate Kayak Buying Guide: Types of Kayaks
| Kayak Type | Hull Shapes | Strengths | Weakness | Accessories to Have | Find out More |
| --- | --- | --- | --- | --- | --- |
| Recreational | Rounded, Flat and Tunnel Hulls | Stability, Manoeuvrability | Speed, Tracking | Life Jacket, Paddle, Repair Kit | Read Full Reviews |
| Touring | Rounded and V- Shaped Hulls | Speed and Tracking | Primary stability, Manoeuvrability (Without Rudder) | Life Jacket, Paddle, Repair Kit, Spray Skirt, Kayak Throw Bag | Read Full Reviews |
| Fishing | Flat and Tunnel Hulls | Stability, Manoeuvrability, Customziability | Speed and Tracking | Life Jacket, Paddle, Repair Kit, Fishing Rods | Read Full Reviews |
| Sit on Top | Flat and Tunnel Hulls | Stability, Manoeuvrability | Speed and Tracking | Life Jacket, Paddle, Repair Kit | Read Full Reviews |
| Inflatable | Rounded and Flat | Storage Space, Stability, Manoeuvrability | Speed, Tracking | Life Jacket, Paddle, Repair Kit | Read Full Reviews |
| Tandem | Rounded, Flat, Tunnel and V-Shaped | Depends on Type of Tandem | Depends on Type of Tandem | Life Jacket, Paddle, Repair Kit, Spray Skirt, Kayak Throw Bag | Read Full Reviews |
There are a wide variety of different types of Kayaks available. They are all designed for different purposes in mind and handle differently in the water. From the above criteria you will get a better picture of what your next kayak will look like. If you are looking for a more specific list of what kayaks are great buys check out my Best Kayaks and Best Cheap Kayaks section. They will give you a better idea of what brands and types of kayaks are great buys.
Recreational Kayaks
Purpose: Best for spending the day on the water in calmer water conditions
Best For: Paddlers who are learning the ropes of kayaking to people who want to explore their waters for the day at a friendly cost effective price.
Not the Best For: More difficult conditions such as larger waves. These are also not the best kayaks for long expeditions because of the kayaks poorer tracking ability and a lot of the times the quality of the seat is compromised. If you want a kayak to travel longer distances and can handle rougher water look to Touring Kayaks.
Recommended Bodies of Water: These kayaks are best suited for calm lakes but can handle smaller waves and can be used in coastal waters (Be Wary of the Tide).
Materials: Usually made of Polyethylene but there are also Thermoformed ABS, inflatable, folding and modular kayaks that fit in this category that are made from a wide array of different materials.
Light Recreational Kayaks such as the Sun Dolphin Aruba are the most common kayaks you will see in almost any given area that features calmer waters. They are a great kayak to start with for beginners because they offer great initial stability. These kayaks don't just appeal to beginners though, many photographers, casual paddlers and anglers like the feel of these kayaks. This stability comes from the kayaks flat to multi chined hull. When it comes to Hull design Recreational Kayaks can be all over the map but the design is usually geared towards initial stability.
Common characteristics of Recreational Kayaks include a wide open cockpit, wider width, and a relatively short length. These characteristics make these kayaks easy to maneuver which is great if you are in tighter waterways such as rivers and creeks. This however does compensate the kayaks tracking ability as the kayaks nose tends to wobble from side to side with each stroke you take making you have to work harder to keep the kayak in a straighter line.
Recreational Kayaks (Or All Around kayaks) usually feature some sort of cushioned seat, storage hatch and bungee storage that goes at the front or back of the kayak. An important thing to note: If you have back problems you may want to either seek out a more comfortable add on seat or look for a kayak that features one already.
Touring Kayaks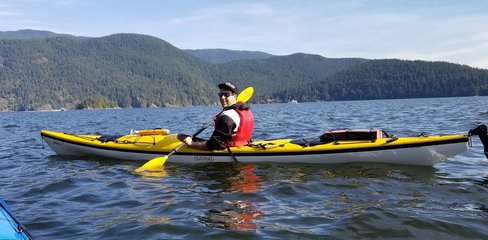 Purpose: Travel long distances with solid tracking ability all while being able to withstand tougher conditions.
Best for: Paddlers who want to move up in the kayaking ranks. These kayaks are made for day to multi day travelling in more difficult conditions. Budget is not an issue for this paddler.
Not the Best for: Beginner paddlers and those on a budget. Not to say it is impossible but these kayaks take more skill and understanding to manoeuvre and the materials that go into them are higher.
Recommended Bodies of Water: Best for wide open water such as coastal conditions. Can be used for large lakes as well.
Materials: The most common materials that go into these kayaks are the more expensive composite and higher quality polyethylene. More Inflatable and Foldable Kayaks are coming into this market though.
Chances are if you are looking into getting a touring (or ocean ) kayak you are looking to create a lifestyle. Touring Kayaks or multi day camping kayaks are designed to be sleek and narrow in that the kayak behaves like a bullet in the water.  Paddling strokes are smooth which allows you to travel longer distances in a much quicker period of time.  These kayaks tend to be more expensive than your average kayak because of the materials put into them. A lot of them are also a lot less durable than recreational brands because the hull material is more geared towards lightweight materials that heightens the on water performance.
Another reason why I say Touring Kayaks are a lifestyle is because the price can be steep. Depending on the materials Touring Kayaks can range anywhere in the ballpark of $1,200 to $3,000 and up! People who buy these kayaks are looking to designate more of their time outdoors by exploring a wide area of water and land. A popular activity among Touring Kayakers is going on multi day trips and setting up camp in different locations. Before jumping head over heels into this activity I highly recommend you take a multi- day touring guide to get the hang of the kayaks characteristics and learn tips and going for long excursions.
As pointed out previously Touring Kayaks are long in length and feature a shorter width. From that point there are a lot of different designs and features that are prevalent to different brands and types. Some Touring kayaks feature more "rocker" than others which allows the nose to keep from going under water. Touring Kayaks also feature a rudder or Skeg system that allows you to to steer with your feet or keep a straight line. Some brands even feature both!
Other Prominent features that that are featured on touring kayaks are their pointed V Hull, Multiple sealed storage hatches, a tighter cockpit as well as bulkheads and bungee deck rigging. Touring Kayaks can be anywhere in the range of 12 to 18 feet.
Fishing Kayaks
Purpose: Designed with features that make fishing on the water as easy as possible
Best for: I'll give you a second… Fisherman! These kayaks offer supreme stability, storage space and options to mount a whole range of different accessories.
Not the Best for: Speed although "Pedal Kayaks" defy this logic. While these kayaks do offer ample storage and good stability I do not recommend you use them for multi day trips.
Recommended Bodies of Water: Calmer waters in lakes, rivers and coastlines although some can hold their own further away from shore.
Materials: Most Fishing Kayaks are made of lower to high quality Polyethylene although there are a growing number of inflatable kayaks that are rigged for fishing out there.
One of the fastest growing sectors of the kayaking industry fishing kayaks have taken off and in many cases have converted traditional canoe paddlers into kayakers. Some reasons why Fishing Kayaks are becoming so popular is because of the innovation that is being spread in this sector of kayaks. Many brands such as Hobie and Jackson kayaks are making a name for themselves in the fishing industry because they supply accessories that every fisherman could only dream about having on a kayak. Some innovations include "Pedal Powered" kayaks, additional rail mountings, fish finder mounts, fishing rod holders, as well as lots of storage to put tackle, live bait and even fishing crates that fit on top of the cargo well.
Fishing Kayaks can come in a wide range of prices. As you go up in price you get a higher quality kayak with more potential add ons that you can use. Prices can range anywhere from $350- $3,500 and up. Common characteristics of Fishing Kayaks is that they are very stable. In fact some of them you can even sight fish by standing on the kayaks steady base. Fishing Kayaks usually feature at least two flush mount rod holders, a relatively short length and a wide base. They also have the most room out of most categories of kayaks in terms of on deck and hatch storage. They also by far the most customisable of any of the kayaks we have mentioned so far.
Fishing kayaks don't have to be expensive though, there are plenty of budget fishing kayaks that can fit most budgets as well.
Sit On Top Kayaks
Purpose: Usually great for day time paddling. Many of them are grouped in Fishing and Recreational categories. These kayaks main theme is stability.
Best For: Recreational paddling and fishing purposes. What a lot of recreational users like about these kayaks is that fact that you can jump off of them and take a dip at any point without worrying about the kayak capsizing.
Not the Best For: Long distance journeys in rougher water conditions. Sitting higher up also created more drag when paddling in windy conditions as well.
Recommended Bodies of Water: Calmer waters such as lakes and coastal bays. Warmer water is preferred.
Materials: Polyethylene plastic usually, sometimes Thermoformed ABS.
Sit On Top Kayaks are kayaks that feature a lot of deck storage room and have an upright seating position. Some preferred uses for them are fishing, diving as well as recreational play. They are the easiest kayaks to load as well as boarding on and off. Many divers have turned to these types of kayaks to go into the coastal oceans to catch or photograph fish. These kayaks are also the preferred kind of kayak for fisherman as it gives them a lot of room and offers a good amount of storage space. You also get to see more as you have a higher vantage point on these kayaks.
These kayaks won't win you any races but they are designed for holding gear and keeping steady for initial stability. Sit On Tops are best for warmer climates or summer time so that you can simply catch some sun while floating. The on water performance of these kayaks ranges from each kayak but in general they are heavier and slower than sit in kayaks .They do however  have the ability to pack more gear. Stability for fishing, getting in and out and diving is the name of the game for these kayaks.
Some features that are exclusive to many sit on top kayaks are scupper holes, up righted seats and cargo wells. Scupper holes are self draining holes that are located along the kayak floor. There are usually a range of 4 to 8 scupper holes that are in many sit on top kayaks. Cargo Well's is meant for storage behind the paddler where you can store gear like waterproof backpacks, crates and coolers.
Inflatable Kayaks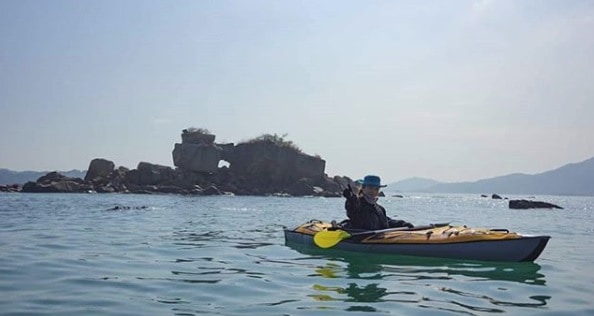 Purpose: A kayak that can be inflated and deflated usually in a span of 10 minutes each. These kayaks are portable enough to fit inside the back of any sized car.
Best For: People who want to get out to the water and not lug around a giant kayak with them.  People who lack space and storage room for a big hardshell kayak.
Not the Best For: People who want the best tracking, quickest kayaks.
Recommended Bodies of Water: There are now so many different types of inflatable kayaks that you can go pretty much anywhere with them as long as you have to right kind of kayak for the right setting.
Materials: Synthetic Rubber as well as Drop Stitch Material. The exact materials differ from each kayak manufacturer.
Inflatable kayaks like the Explorer K2, are getting wildly popular over the last 15 years due to a lot of downsizing that is happening with folks. Many people have had to get rid of their kayaks because of the lack or storage space, but now there is a solution! Inflatable kayaks have come a long way in the past 15 or so years but have actually been around since the 1960's! Inflatable kayaks used to be glorified blow up dinghies but now many of them possess high quality materials that insure that they track well and are durable. If there is a type of hard shelled kayak you can think of chances are there is an inflatable kayak that does the job almost as well.
The category of inflatable kayak has the most wide ranging makes, shapes and sizes that you can imagine. Some are made for multi day expeditions and have been tried in glacial coastal waters of the arctic! Others are ultra stable and can even have different attachments put on such as pedals, rod holders ect. A good majority of these kayaks however, are made for recreational usage and are lacking in tracking ability and speed. They do however possess great manoeuvrability . It has now become a standard practive to have inflatable kayaks that can withstand whatever the bottom of the shore can bring.
Inflatable Kayaks range in price. The recreational "fun" models can be anywhere from $50- $400 while more serious inflatable expedition kayaks can range from $500 all the way to $2,000. Many of these inflatable kayak models come with a good range of customisation. Some features can range anywhere from being a 2 in 1 single/ doubles kayak, having a sailing kit to including a backbone to strengthen on water tracking performance. Inflatable kayaks are taking over the market and are often times some of the best selling kayaks online and in retail stores.
Tandem Kayaks
Purpose: To hold two or more people in one kayak
Best for: A couple who want to stay in the same kayak, families as well as fisherman.
Not the Best for: People who are not in sync with their paddling or are arguing over where to go.
Recommended Bodies of Water: Pretty much anywhere as long as the kayak suits the environment.
Materials: Anything from Polyethylene, Composite, Wood, Synthetic Rubber.
Tandem Kayaks are usually the go to kayaks for families and couples. They have no real signature design as they come in a lot of different shapes and sizes and can be used for many different purposes. As a matter of fact there are tandem kayaks in all of the previous 5 categories I have mentioned.  It is recommended that you get a tandem kayak after a bit of kayak experience for a few reasons.
Tandem kayaks are heavy. A lot of the times they usually range anywhere from 60- 100 lbs unless you have an inflatable kayak. When a tandem kayak is this heavy, depending on your strength it may be to much to lift it onto the hood you your truck so you may end up having to buy a trailer for it.

Tandems are sometime referred to affectionately as "divorce boats" by kayak instructors. Especially if both parties are learning to paddle. Another limiting factor is the fact that if you are more enthusiastic about paddling than your partner, chances are the kayak will just be sitting in the garage all alone collecting dust. If you are looking to purchase a tandem kayak be sure that you have both tried it a few times and are in sync with each other.

Tandems can actually be more expensive than two solo kayaks. So if you do go through the tandem route make sure that you are both on the same page when it comes to paddling.
Solution? If you want a kayak where you can fit more than two people but also want to make trips yourself I would recommend an inflatable two in one kayak for a few reasons. One they are very cost effective and can be in the range of anywhere between $100-$800. Two The seats can be rearranged to paddle a tandem or simply throw one of the seats out and put the single seat in the middle to make a solo kayak!
Having said all this tandem kayaks are great if you have a bit of paddling experience, are understanding of one another and are both enthusiastic about paddling! Remember the main goal is to have fun!
Other types of Kayaks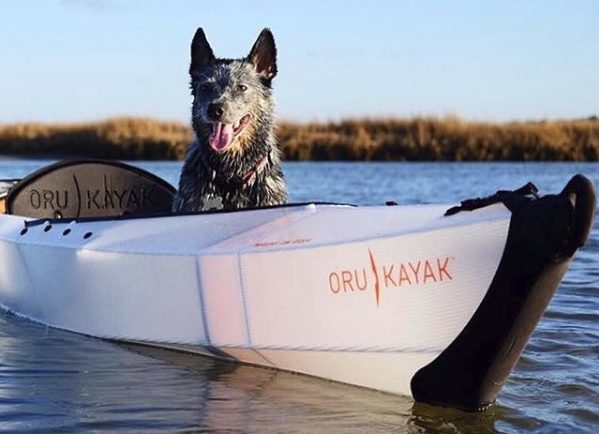 Folding Kayaks
These kayaks were a bit of a relatively unknown commodity until Oru came around and revolutionized the way people think about folding kayaks. If you are a fan of Shark Tank you may remember this kayak. We have a full detailed review on the Oru Bay ST .
Modular Kayaks
These are cool kayaks that snap together and have interchangeable parts. You can switch from a single kayak to a tandem in just a few snaps!
White Water Kayaks
The shortest kayaks around white water kayaks are usually reserved for paddlers who have a good amount of experience with white water rivers. This is the most adrenaline filled kayak experience that you can have. The name of the game with these kayaks is manoeuvrability which is why they are very short and bulky compared to most kayaks.  Before trying these kayaks I highly recommend that you take some lessons first!
Wood Kayaks
If you are a traditionalist there are crafters out there that have and produce wooden kayaks. These types of kayaks span back many years ago and were used for transportation and hunting purposes by the Inuit peoples.
Kayak Design
Now that we have narrowed your search from questions you ask yourself to Type of Kayak and Kayak Materials used now we are down to design. Even after you have answered the three above preferences the design aspects of each company in each category differ from one another! To narrow your search even more keep these design aspects in mind so that you can correctly choose a brand that is most important for your criteria.
The Design Aspects of the Kayak Hull
Probably the most important aspect that dictates the kayaks use and purpose is it's Hull. The Hull of the kayak helps dictate the following.
The Speed of the Kayak

The Initial and Secondary Stability of the Kayak

How Maneuverable the Kayak is

How the Kayak handles a wide variety of different water conditions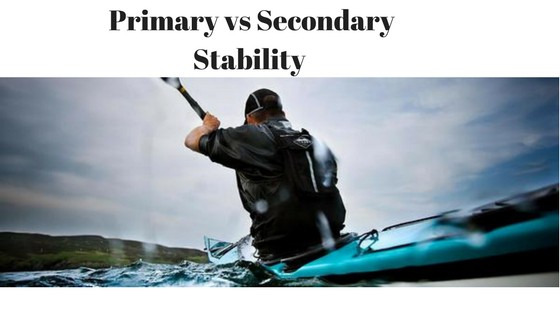 These terms refer to the kayaks stability in different water conditions in that:
Primary Stability: is the initial steadiness on flat water. Beginners and intermediate paddlers would be more concerned about primary stability as it points to water conditions that are in medium-smaller lakes, calm rivers and coastal Bays
Secondary Stability: Is the kayaks capability of keeping steady in rougher water conditions such as windy conditions in larger lakes, open water in coastal oceans. People who are experienced paddlers who go on day to multi day trips are often more concerned about secondary stability.
Primary and Secondary Stability are complete opposites and often times one Hull Design is good for one type of water condition but is often times not so good for the other. In other words keep the water conditions in mind when looking for a kayak. If you plan on paddling on calm sunny days look for Primary stability and vice versa.
Hull Shapes

Different shaped Hulls dictate how the kayak will behave and perform in the water with the above criteria in mind. There are many types of kayak Hulls out there but today we will be showing the 4 main ones for simplicity reasons.
Rounded Hulls
These Hulls are shaped like a torpedo and are meant to decrease water drag as the kayak glides in the water. They are built for speed and manoeuvrability in the water and are more geared towards secondary stability. Typically touring, White Water and Recreational- Touring Hybrids have these Hull designs.
V- Shaped Hulls
The best type of Hull for tracking, V- Shaped Hulls are great for going longer distances in rougher water conditions. In terms of maneuverability these Hulls do lack in that category compared to their Rounded cousins. These Hulls offer more Secondary stability than any of the above Hull designs and can be tippy in calmer conditions. These Hulls can be found in many Touring or Sea Kayaks.
Flat Hulls
Creating the most drag in the water Flat Hulls are made for Fishing, many Sit on Top and Recreational Kayaks. You will not be going anywhere quick and will struggle to keep up to with Rounded and V Shaped Hulls but you will have great primary stability! If you are a beginner or new to kayaking this is a good style of Hull to look at. Flat Hulls also offer solid maneuverability which is something a lot of fisherman look for in a kayak.
Tunnel Hulls
Tunnel Hulls provide the best of both worlds in terms of secondary and Primary Stability. They are prominent in Recreational and Sit on Top kayak brands such as Ocean Kayak. They also offer great maneuverability and are fun kayaks to take out in the surf! The only down side is that these kayaks are relatively slow compared to their V Shaped and Rounded Hull cousins.
Hull Chine
To put it simply Hull Chine is the point where the bottom of the kayak reaches the sides. There are two types of Hull Chines Rounded and Hard Chines. Rounded Chines take a more soft approach to hull design where the bottom of the kayak looks more rounded while Hard Chines have a more boxy look  that feature angular ridges.
Rounded Chines
Are Faster

Provide greater Secondary Stability

Are featured in a good majority of kayaks today
Hard Chines
Track better

Offer more Primary Stability

Are featured in some "Play" Kayaks and Older designed Sea Kayaks
The problem with identifying Chines is that there are so many variations that differ from each manufacturer. Many are hybrids that incorporate both elements into their kayak Hull design. If you are starting to get a bit confused I would choose the type of kayak, Hull Shape and Length, Width as main points to start your criteria in choosing a kayak for yourself.
Length and Width
After Hull Shape I would say that Length and Width would be the next most important factor when choosing the right kayak. The Length and the Width determine how fast and how maneuverable your kayak will be. Think of it like this, Longer narrower kayaks allow you to travel at greater speeds and therefore be able to travel longer distances. They also track much better because they move like a torpedo in the water. The shortcomings of Longer narrow kayaks is that they are more cumbersome to maneuver and do not offer as much initial stability.
A shorter more wider kayak lacks in speed and tracking ability but offers much more stability and maneuverability. See the Table above for some examples.
Rocker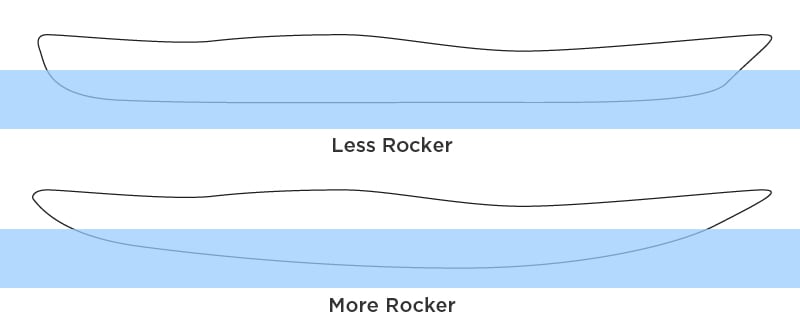 Simply put Rocker refers to how much the kayak's bow and stern sticks out of the water. You can see this by looking at the side of the kayak and you will notice that different brands tend to favour more or less rocker in their boats. In case you were wondering the name "Rocker" Refers to how much the bow and stern rock back and forward in the water. A rule of thumb is that the more rocker a kayak features the more manoeuvrability it will have and the better it is for climbing over waves. Hulls that feature less rocker are better at tracking but tend to cut through waves a lot more. Less rocker is generally preferred on flat water while more rocker handles better in choppy conditions.  
Kayak Materials Explained
In the Materials section of each of the kayak types I have reviewed you may have noticed a brief mention on the materials that go into each type. Below we will briefly explain the difference between some of the materials which is ultimately a major consideration when it comes to the kayaks price.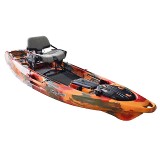 Rotomolded Polyethylene kayaks
Many kayaks that you see in many of the above categories are made of Rotomolded Polyethylene. It is a relatively inexpensive material that is formed by heating or molding. This is done by heating up plastic pellets to melting point, rotated and then cooled. A note of caution, do not leave your kayak in the sun for too long or else it will deteriorate the material and be more susceptible to punctures. Keep the Polyethylene kayaks indoors or under a cover so insure that they are protected. Not all Polyethylene is created equal as there are a couple of  types of Polyethylene. These two are the most common.
Linear: The most common of the Polyethylene it is made to be inexpensive but  will provide good durability when taken care for properly. Many brands that you find in Department stores use this material.
Super Linear: While this kind of Polyethylene is more expensive it will last longer in the long run of things because it is made of material that is lighter, more durable to the elements and is UV resistant.
Typically beginners start with these kinds of kayaks because of their impact durability. Even if there is damage it is easier to repair Polyethylene than say Composite.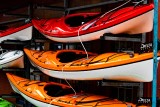 Composite
These materials are most common in Touring (Sea) Kayaks. Composite material costs significantly more but is much lighter and performance driven in terms of gliding in the water. The material is more expensive for a few reasons.
Each layer of composite material is made by hand from scratch to insure its quality.

The Lighter Material can be formed into shapes that would be impossible for Polyethylene and ABS materials which allows you to have a more "aerodynamic" kayak that glides through the water with less effort per stroke on your part.

Composite Kayaks can take on more weight than other materials which makes it the most flexible material under heavy loads.
I would not recommend that a beginner start off with this kayak because of it's more expensive price, less impact to strength ratio and it is a more costly material to repair. In a way it is like owning a high performance Porsche.
Thermoformed ABS
Made with the combination of a vacuum and heated plastic sheets over a mold ,Thermoformed ABS is made by a few well known kayak manufacturers such as Sun Dolphin. You can tell the difference between ABS and Polyethylene based on looks. Polyethylene is usually a matt texture while Thermoformed ABS is Glossy. This material is more tough and durable than Polyethylene in terms of gauging and is a lighter material as well.
While Thermoformed ABS is lighter than Polyethylene it is still significantly heavier and less performance driven than Composite Materials.
Kayak Accessories that you will need
So you have chosen what kind of kayak you want! Great! However there are still some things you must purchase for your kayak. These are must have equipment that you need to purchase before you go out on the water.
A Paddle
Some budget kayaks come with a paddle while the vast majority of other kayaks don't. If you are new to kayaking then having a spare kayak paddle is a great thing but if you have a few paddling trips under your belt they can be a bit of a pain as they are usually made cheap and can break relatively easily. The kind of paddle you get depends on what your experience level as and what kind of kayaking you will be doing.
Life Jacket
For any water sport Life Jackets (or PFD's) are important. Yes they look kind of silly but they are important for your safety and well being! There are many different makes and brands out there but you just need one that can properly fit you and hold your weight in the water.
Kayak Throw bag
These should be in an accessible area of your kayak that you should have in case anything goes wrong. These Throw Bags can be your best friend if anything goes wrong and you capsize.
Kayak Repair Kit
You never know what you may bump into in the water or on shore so it is best to be better safe than sorry by providing the applicable repair kit for the kind of kayak that you are using.
Whistle and or Flare Kit
A whistle and flare are ususally the last calls of action but they are imperitive to have, especially if you are paddling solo.
Kayak Accessories that are Optional but Recommended
These accessories will only help better your experience both in and out of the water.
Spray Skirt
Usually this is an item that is necessary if you are paddling in rougher waters with a Sit Inside Kayak. Spray Skirts go around your waist and cover the cockpit rim of your kayak. Spray Skirts are most prevalent in Touring (Sea) Kayaks, Whitewater kayaks and some Recreational models of kayaks.
Dry Bags
These are important if you are going on a day trip and want to bring valuables such as a phone, wallet or even food with you. Dry bags come in a wide range of different sizes and most good quality ones are fully waterproof when used correctly
Rudders and Skegs
Rudders are the add on mechanism that you would use to steer the kayak with. You typically use the foot pedals to steer the rudder in the back of the kayak that allows you to turn easier than you would if you were trying to use your paddle.  Many touring kayaks already have rudders mounted on them.
Skegs are tracking mechanisms that usually integrated within the hull of the kayak. They look a little similar to rudders but their use is very different. Skegs are used to help the kayak track better which allows you to paddle in a straighter line.   
Car Racks
If you have a hard shelled kayak car racks are the best way to transport your kayak from point A to B without having to rent a Uhaul or borrow a friends F1F50 truck.
Kayak Trailers
If you have a few kayaks and loads of accessories, kayak trailers like this are a great options to get, especially on longer journeys.
Bilge Pumps
These help keep your kayak from being flooded with too much water. These are usually best suited for sit inside kayaks as sit on top kayaks usually have self draining scupper holes.
Knives and Survival Kit
If you are going for a quick paddle in the lake next to your cottage you probably will not need these but if you are going on day or multi day trips I would say that these are essential. Knives are more handy than you may think as they can be used to do anything from cutting line, ropes bait to something as simple as cutting a sandwich.  
Some Sort of Navigation
Whether this be your phone, maps of the area or even a compass navigation is a must have for multi day trips and even day trips in the kayak.
Cool Things that you can add to your Kayak
Now that we have all the serious stuff out of the way, we can now talk about some cool doodads that you can add to your kayak to better your paddling experience!
Kayak Motors
These are most common with fishing kayaks,Trolling Kayak motors are becoming more popular as the fishing kayak industry is growing. Get to Point A to B while you worry about the important stuff which is fishing! Most of the big fishing kayak companies allow you to mount trolling motors on them.
Coolers
Essential for floating with a drink or for the local fisherman many sit on top kayaks feature ample amount of room to mount a kayak cooler in the Cargo Well of the boat.
Kayak Carts
Have a long way to go to the water and tired of lifting your kayak? Use a kayak cart to help you along the terrain. Simply place the kayak on with the mounting system and you are ready to go! Some companies even go so far as to offer different types of wheels for the different types of terrain you will pass through.
Kayak Sails
Tired of Paddling? Many brands of inflatable and recreational kayaks allow you to have the capability of attaching a sail to your kayak so that you can let the wind do the work for you.  Sail designs differ from each manufacturer.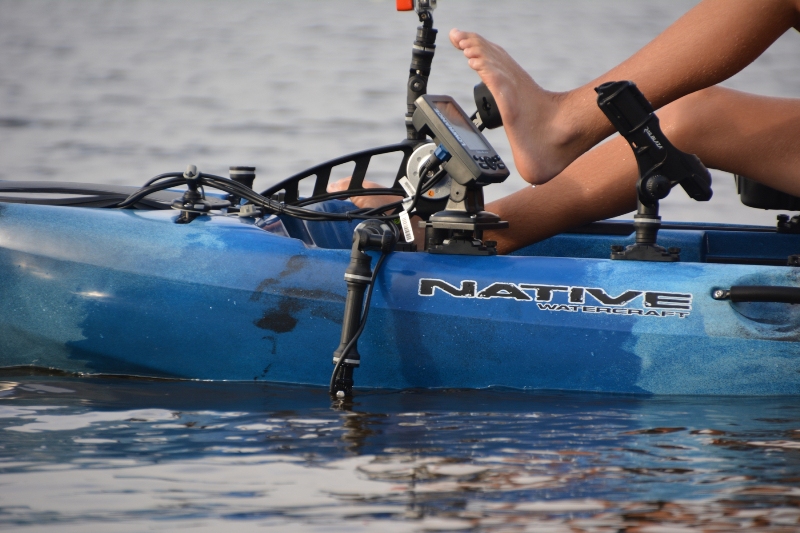 Kayak Pedals
Some more expensive models of kayaks such as the Hobie Brand allows you to run on foot power so that you can keep your arms free to fish and steer. Pedal kayaks are roaring in popularity because they allow you to get to your location quicker than if you paddled. It makes sense because your leg muscles are much stronger than the muscles in your arms!
Rod Holders
Flush Mounted can be found on almost all Fishing Kayaks or can be installed on to most sit on top or Recreational kinds. There is also the more convenient swivel mount rod holder that is included on a few kinds of fishing kayaks or can easily be installed.
Fish Finders
With the right kinds of mounting accessories you can install fish finders onto you kayak to best locate where the fish are hiding! I wrote a detailed review on the Best Kayak Fish Finders right here.
Kayak Mounting Solutions
Various different Fishing Kayak companies such as Hobie offer a wide variety of mounting solutions. Some of these include, rod holders, gun mounts, drink holders, fish finder mounts, deck rigging and many more!
Conclusion
Finding the perfect kayak to fit your life takes some perseverance and a good few hours of research. A great way I do my research  on narrowing down what type of kayak I want is by looking at a broad range of Customer reviews and seeing what they say. If you are looking for individual kayak reviews feel free to check out some of my Buyer Guides and Individual Review Guides!
See you out on the water!