The Short Answer: What size kayak do I need? 
Regardless of the specific type of kayak, you should be considering the length, width, weight and volume capacity and even the cockpit dimensions of each kayak that you're looking for. The length should be long enough for easy tracking and maneuverability, which depends on the kayak type. The width should be wide enough for stability, but this ranges anywhere between 20 to 30 inches. And the weight and volume should be at least 125 pounds more than your body weight, along with the gear you're carrying. You should fit comfortably inside of the cockpit while still being able to escape if the kayak capsizes.
—
There are many different kinds of kayaks on the market, including recreational kayaks, inflatable kayaks, sea kayaks and even kayaks for fishing. Not only is it important that you find the right kind of kayak for your particular purposes, but it's also vital that your chosen kayak is the right size for you. This article will run through all of the necessary information that you can review to find the right size kayak for you, and there are even some examples of different kayaks that we recommend for you.
Answer
What Size Kayak do I need?
In order to find the best kayak for you, you'll want to consider the different elements that are tied to the overall size of the kayak. You don't want one that's too large or too small for your body type, nor do you want one that's not capable of holding the weight of your gear and other belongings in addition to your body weight.
The right size kayak will be long enough that you have enough legroom, while not being too long that it negatively affects the amount of control that you have over the boat. Even more, the right size kayak will be wide enough that you can comfortably sit inside of it without touching the sides, but not too wide that you risk losing balance and tipping over.
Lastly, the right size kayak will have the ability to hold at least 125 pounds above your weight. This will ensure that the kayak can not only support all of your body weight, but that it will also have the ability to support your fishing gear or other types of belongings while you're using the kayak.
Length Recommendations
You must consider how long you need your kayak to be since this will determine the amount of control that you have over the boat. For instance, shorter kayaks will be able to more easily maneuver throughout the water than longer ones. With that, you can more easily turn your kayak around and steer it in certain directions. So if you're planning on traveling through bodies of water that require maneuvering, then you'll want a shorter kayak.
On the other hand, longer kayaks are for those of you needing more tracking through the water. By having the extra assistance with tracking, you do less work trying to keep the boat going at a steady speed. Tracking helps the water glide past the kayak, ensuring that your kayak travels straight through the water in one direction. So if you're planning on going through more rough waters, a longer, tracking kayak will be more sufficient for you.
The length depends largely on the type of kayak that you have, but most kayaks measure at least 10-feet and 16-feet in length. The longer it is, the faster you'll travel. But you'll also risk having trouble with maneuvering.
Width Recommendations
You'll also need to consider how wide a kayak is, since this determines your stability in the water. It seems that wider kayaks would be more stable and narrower ones will be more difficult to feel safe in. But you may want to refrain from using a kayak that's too wide since this can negatively impact its performance issues. For instance, wider kayaks tend to travel slower throughout the water, and they may be more difficult to track throughout calm waters especially.
For the width, you'll want to accommodate the size of your hips and waist. The kayak should be wide enough so that you can comfortably get into it without having to hit your hips against the sides of the cockpit. More standard kayaks tend to have cockpits around 15 to 25 inches wide. Given that, if you have wider hips, then you'll want a kayak whose cockpit measures at least 20 inches wide.
Weight Capacity Recommendations
Considering the weight capacity of kayaks is probably one of the most important considerations because you're faced with safety problems if your weight isn't supported by the boat. Not only is it important to consider your body weight, but you'll need to think about the weight of the gear on the boat with you.
This is especially important if you're a fisherman, since your gear tends to be the most heavy-weight. You can easily find the weight capacity of every kayak either with the manual that comes with it or in the product description of the particular kayak.
We recommend that you find a kayak that has a weight capacity that's around 125 pounds more than your actual body weight. You can also reduce the weight capacity by around 35% since this will allow you to have the safe amount of support by the kayak .
Kayak Volume Recommendations
The kayak's volume is essentially its total carrying capacity. A kayak's weight capacity and volume capacity are similar, since they both involve the kayak having a maximum limit. But the volume specifically refers to the amount of gear, the paddles, your body weight as well as any other gear that you may have on your kayak with you.
That being said, you'll want a kayak that can support at least 100 pounds more than the weight of everything that you will have on the boat with you. If you exceed the kayak's volume limit, then you risk not only losing stability and capsizing, but you also risk having trouble paddling or losing control.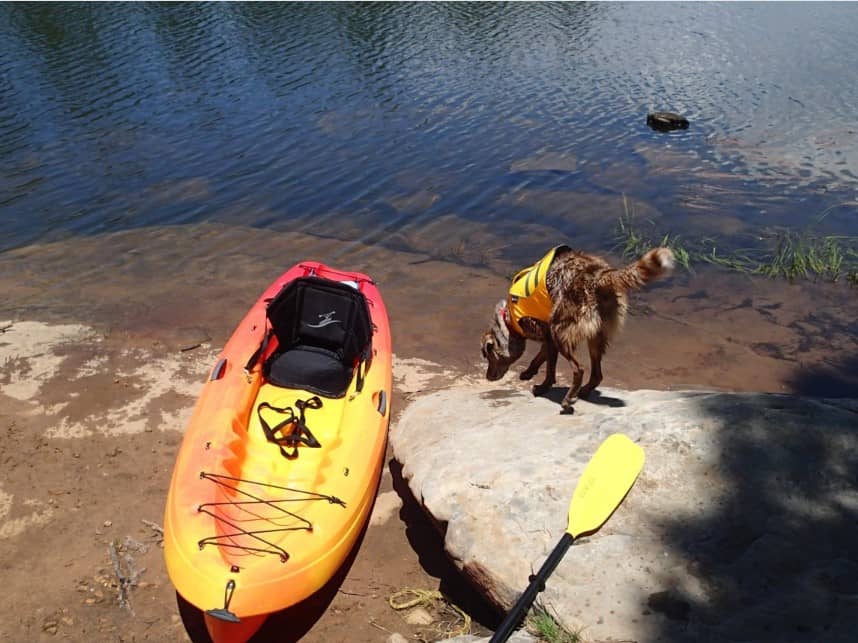 Cockpit Dimensions
Lastly, the cockpit's dimensions are also important to consider, since this will determine your comfortability, control and overall performance while using the kayak. You'll want a kayak whose cockpit gives you room to move around without your waist hitting the sides. Your cockpit should also have room for your body while you're wearing a PFD, since you'll be wearing one the entire time.
The cockpit is not only important to consider for comfortably getting in and out of the kayak for your trip, but it also determines how easily you can exit the boat in the case of capsizing. Most cockpits measure around 15 to 20 inches wide and around 20 to 25 inches long. Keep this in mind while browsing and consider purchasing a smaller one for those of you with a smaller waist.
What is the Ideal Size for a Beginner?
Beginners should consider using kayaks that are easier to control and maneuver throughout the water. Instead of focusing on the speed that the kayak travels, we recommend that beginner paddlers choose more stable and easy-to-control kayaks with flatter hulls.
That being said, you'll want a wider kayak than usual, since they offer more stability for inexperienced kayakers. You should also refrain from purchasing a kayak that's too long, since longer ones are more difficult to maneuver, and they tend to travel through the water at higher speeds.
What Type of Kayak Should I Use?
Recreational
Recreational kayaks are more suitable for those of you that want to casually kayak through calmer waters. Because of their wider beam and attention to comfort, they're great for people that want more stability and relaxation than speed and other performance aspects. They feature an extremely user-friendly design and they're great for a variety of activities .
Offering a high-quality construction and easy usability, this Pelican Premium Argo 100XR Kayak from REI is great for beginners that have a budget to spend and require storage space. It's made with a durable RAM-X Premium high-molecular-weight polyethylene material that offers lightweight and heavy-duty properties. The polyethylene material also has a top layer of protective resin that can keep the kayak rigid while in the water.
It's particularly great for beginners because it measures 10 feet long and is 29 inches wide. The cockpit itself is 47 inches by 25 inches, so it's on the larger side. This helps to ensure that you're comfortable, protected and stable while traveling through the water. Also accommodating for comfort, it comes with a padded foam seat that can provide you a comfortable ride for long periods.
As for the overall construction of this kayak, the Pelican Premium Argo 100XR Kayak has a weight capacity of 300 pounds. This isn't as high of a weight capacity as some other boats on the market, but recreational kayaks aren't necessarily meant to carry a large amount of weight so it's adequate to support your weight along with some vital belongings.
You can safely bring your belongings along with you, since the kayak has spacious hatches and storage bags to keep your stuff safe within the boat. And there's even a bottle cage and holder, so you can relax in your kayak with easy access to your drink.
If you're looking for a recreational kayak while on more of a strict budget, then this other one from REI may be more suitable for you. The Pelican Sentinel Sit-On-Top Kayak with a Paddle is available for a more affordable price, and it's great for flatwater kayaking. Not only is it more affordable than the previous example, but this kayak also accommodates for comfort more than the other boat.
More specifically, it features an adjustable, padded backrest as well as molded footrests to help you sit more naturally within the boat. That's beneficial for recreational-use specifically because you'll be in the boat for long periods.
Even more, this Pelican kayak is easier to carry than others, since it's only 43 pounds and is equipped with ergonomic molded carrying handles. For further convenience, it even comes with a paddle, so you don't have to worry about purchasing one separately.
Inflatable
Just as their name suggests, inflatable kayaks are those which are filled with air before and after using them. They're made with multiple layers of thick-coated materials, ranging anywhere from vinyl to polyester materials. Given the fact that they can be inflated and deflated before and after each use, they're great for those of you that need to save room or are hiking or camping. They can easily fit into your backpacks, and they're durable in the water.
If you're looking for an inflatable kayak that has more customizability, then you may want to consider checking out the Sea Eagle 330 Inflatable Kayak. It only weighs 26 pounds and is capable of fitting up to two people inside of it. It can fit up to 500 pounds on its interior, so you even have enough room to put your gear that you're traveling with because of its three separate chambers.
There are also user-friendly features with this kayak, including the five deluxe air valves and its ability to inflate in just six minutes. You don't have to worry about only using this kayak in waters free of debris, since the material it's made out of is 33-millimeter polykrylar. Lastly, its whitewater rating is suitable for class III, meaning that it's reliable and safe to use.
Since the Sea Eagle may be a more expensive option that can press your budget, you may want to consider the Intex Challenger K2 Kayak for a more affordable price. More specifically, the Intex Challenger can fit up to two people on its interior, but it does have a lesser weight capacity than the Sea Eagle 330, requiring under 400 pounds.
This Intex Challenger is made of a rough vinyl material that's both puncture and UV-resistant. Even more, this kayak comes with two oars that measure 86 inches. They're made of a super lightweight aluminum material, and the kayak also comes with a high capacity pump and a repair patch kit.
Ocean/Sea Kayak
Given that the ocean has larger waves rougher waters than other types of water, ocean and sea/touring kayaks are specifically designed to withstand the immense waves and constant motion of the water. They're structured with a higher rocker to help the kayak tackle the oncoming waves more easily. Even more, sea kayaks also have a more narrow profile, making them easier to navigate through ocean waves. Given their high-performance features, they tend to be one of the most expensive types of kayaks.
Offering high-quality features and durable construction, the Eddyline Sitka ST Kayak is great for exploring the ocean waves. It measures 13-foot, nine inches, and it only weighs 43 pounds. Because of that, you can easily carry it to and from the ocean for fishing or exploring. It's capable of fitting up to 300 pounds and supports one person. That being said, there is lots of extra room that you can use for your fishing gear.
It's constructed using a Carbonlite ABS plastic material, so it can withstand some wear and tear. And it features tracking qualities that are higher than that of any other kayak on the list. You can comfortably sit in this kayak for long periods as well, since it features a Seat System that can be positioned to fit your personal preferences.
Featuring an even more high-quality construction, the Dagger Stratos S Kayak is available for those of you with a higher budget. Even though it's more expensive than the Eddyline Sitka ST, it's longer, more convenient and offers a more high quality than the other sea kayaks. It measures 14-feet, six inches in length, and it weighs 54.8 pounds. Instead of CarbonLite, this kayak is made with a rotomolded polyethylene material that can withstand even more wear and tear.
Also similar to the Eddyline, this Dagger Stratos has a premium-quality seating system that has an adjustable back band. It also has a padded seat that can provide comfort for long periods. You can keep all of your gear dry with this kayak, since it comes with a full-size stern hatch that features bulkheads. And it also has dual-density hatch covers to offer even more watertight protection.
Fishing Kayak
If you're a fisherman and want to have the ability to navigate water more easily without taking out a larger boat, then you may want to consider checking out fishing kayaks. Fishing kayaks are designed with the ability to hold large amounts of fishing gear in addition to having a smaller design to navigate through tight water spaces. Given their slimmer profile, they're much more portable than other types of boats, and they help you to sneak up on fish quickly without a motor.
Capable of fitting two people in addition to a large amount of fishing gear, the Sevylor Coleman Colorado 2-Person Fishing Kayak features an inflatable design that can be easily transported along with you throughout your daily adventures. It's produced with an 18-gauge PVC construction that's strong enough to be used in various bodies of water. Multiple air chambers offer puncture-resistant properties.
Furthermore, the Sevylor Coleman Kayak comes with a trolling motor that can help to decrease the overall amount of fatigue, which makes it great for all-day fishing trips. There are even adjustable seats that help you to remain comfortable while you're fishing. Lastly, there are rod holders that give you the ability to set your fishing poles down while you're still fishing.
For those that have a higher budget or don't feel comfortable fishing in an inflatable kayak, the Yellowfin Angler Sit-On-Top Kayak from Vibe Kayaks is made with rotomolded polyethylene, making it suitable for withstanding wear and tear throughout waters with debris. As for your fishing gear, this kayak comes with optimal storage space and waterproof bags to keep your belongings and fishing gear stable and safe.
Moreover, this kayak from Vibe Kayaks can only fit one person inside and it's more expensive than the other inflatable fishing kayak, but it measures 10-feet long and 32 inches wide, which is an extremely stable and easily-controlled design.
Final Thoughts
Overall, you must find the right-sized kayak for your specific purposes to ensure safety, comfort and convenience. The kayak industry has a diverse market with boats in all kinds of sizes, making it extremely easy to find one that fits perfectly for your purposes and your size.
Ultimately, you should find a kayak that you can comfortably sit in without your hips hitting the cockpit as well as one that lets you spread your legs comfortably. Additionally, your kayak should support your weight along with the weight of all the gear you're carrying along with it. Since there are so many different kinds of kayaks on this list, you're recommended to review the information and the examples listed, which can help you to purchase the best one for your personal preferences.