Best Cheap Inflatable Paddle Boards
Looking to get into Paddle Boarding? Fantastic! Paddle Boarding is a sport that I thoroughly enjoy in the warmer months because it is like therapy on water! No I don't have a therapist that sits on the nose of the paddle board while I paddle, although I would imagine that it would be an experience! I say Paddle Boarding is like therapy because floating gives off meditative qualities that gives your mind a rest from the hoopla of life similar to yoga and meditation.
Inflatable Paddle Boards have come a long way in the last 10 years thanks to their roaring popularity which has given way to more competition and therefore better built and more affordable paddle boards.
A few years ago Paddle Boards were easily priced at over $1,000 but thankfully that is not the case anymore. There are many different paddle board brands out there, and I mean a ton! We have done our research and have compiled a list of paddle boards that are under $700 and $500 respectively.
Why Inflatable Paddle Boards?
If you are in a similar position like me, you want to get out on the water but, not have a big board to store and lug around with you. While traditionally Hard Boards do produce better performance in the water you are probably more concerned about where to actually store the board and how to get it to the lake or ocean.  
In enters the Inflatable Paddle Board and you are halfway to the solution. However you start looking around on different sites and there is a ton of board to choose from. Let us take the guess work out of it and steer you in the right direction of where you want to go. In this guide I have classified the best cheap inflatable paddle boards in two different categories:
Best Cheap Inflatable Paddle boards under $700 and the Best Cheap Inflatable Paddle Boards Under $500.
VS
In General Inflatable Paddle Boards Under $700 are:
High Quality Brands from Industry leaders
Are Innovative
Provide Great Customer Service
Will Provide Better Performance in the Water
Have Better Quality Accessories and Instructions
In General the The Inflatable Paddle Boards Under $500 are:
Are Smaller Private Brands
Are made with Cheaper Materials
Have Lower Quality accessories and may have unclear instructions
Some are Made offshores
Personal Note:
Talking from personal experience I always feel that it is better to spend a bit more money on bigger brands. I bought a cheaper inflatable paddle board local, and while I do like it and have not had any major problems with it, I kind of feel that I should've just gone with the bigger brand names. I say this because the board I have came with a cheap paddle which is almost impossible to unlock out of place on the water. This limits me to kneeling while I paddle. I also feel that the board is not as stable as it could be despite pumping it up to 15 PSI.
Having said the above I have scoured the web in search of the best 700 and 500 and under inflatable paddle boards that have high customer rankings and praise which is usually the best indicator to the quality of the board. I will also be posting a mini guide on how search for the best cheap inflatable paddle board below.
Best Cheap Inflatable Paddle Boards Under 700
Features
Two Year Warranty

Front Bungee Deck Lacing

3 Fin Set up (2 Smaller and 1 large detchable)

Front and Rear D Rings

Pump

Fiberglass Paddle

Repair Kit

Made Military Grade PBC Material

Branded Deck Pad

Front and Rear Carry Handles
This Tower has revolutionized the the Paddle Boarding industry and has been one of the reasons why we see higher quality and affordable paddle boards on the market. Before Tower many inflatable SUP's were only around 4" deep meaning the middle of the board where you stand sags in the water which increases the boards drag in the water. Tower came up with the 6" paddle board that allowed more weight on the board without increasing drag. The end result was a faster smoother paddle with a more durable board that lasted all at an affordable price tag.
Performance wise the Tower Paddle Board Adventurer 2 tracks well and has a 3 fin set up which increases the boards straight line performance on the water. The cool thing with this board is that it is a decent all around board where it can be used for a variety of different uses. It's pointed nose allows it to be used as an all around/ touring board hybrid while it's 4 inch nose rocker allows you to have a bit of fun in the waves with some surfing capabilities. There is no tail rocker though, making surfing a bit tricky than other boards. I also would not use this board in any races as it belongs in the recreational category.
Did you know Tower was on Shark Tank? Probably so because a good number of people who watched that episode of Shark Tank looked for Tower Paddle Boards on the web. While the owners pitch started off a bit shaky he struck a deal with Mark Cuban and is now doing very well for himself and Mark as seen in the below interview.
So why the Adventurer 2? Why not the Adventurer 1 or the Classic edition?
Adventurer 2 is the way to go because it is a quality board that grows with you. Many people who initially buy a budget SUP find after a while that they outgrow it. That is to say that once they have perfected how to use the board they want something that paddles better and drags less in the water. The Adventurer 2 provides a faster ride ,supports more weight and is about as durable as they come. The Adventurer 2 is also better for bigger people as it can take more weight at 350 lb maximum capacity.
The features of this board are pretty basic but unlike many other inflatable paddle board manufacturers this one comes with a good quality carbon paddle. This is a big selling feature as carbon paddles are a bit more expensive and can range anywhere from $100 to $200. It also comes with a basic foot pump , repair kit and centre detachable fin. If you are looking for a whole range of accessories such as a bag and a leash.
Bodies of Water
This paddle board can take a wide range of different conditions but is best at home on calmer lakes and rivers. As stated before you can take board in coastal conditions and even do a bit of surfing on it.
Pros
Very Durable and Ridgid

Can take up to 350 Lbs

Solid Tracking Ability thanks to it's 3 Fin Set Up

Comes with Fiberglass Paddle

A bit of a Revolutionist in Terms of the Paddle Boarding Industry

Adapts well to most bodies of Water

Great board for Bigger and Taller People

Invested into by Mark Cuban

Two Year Warranty on Materials
Cons
Not the Fastest Board Around

Could come with more Accessories such as a Backpack and Leash

Pump Looks a bit Cheaply Made

Does not stand out as much, as other Manufacturers have replicated their Design
See The Full Review Here 
Features
Made of Miltary Grade PVC

Five D rings (4 on nose one on the tail)

Bungee Deck Lacing

Comes with Three Piece Aluminum Adjustable Paddle

Three Nylon Removable Fins

Non Slip Deck Pad

Comes with Pump

Two Year Warranty
We think the Ten Toes Weekender is perfectly named as it is an ideal board for casual board users who want to have some fun floating. If selecting colour is important to you than the Ten Toes Weekender gives you a full selection of Black/Red, Ocean Blue, Blush Pink, Green and Sea Foam Blue. If you are looking for a solid quality inflatable board to start off with the Weekender would be one of your best choices for a variety of different reasons.
For one The Weekender is very stable, thanks to it's shape and design. It can handle a variety of different water conditions and is equally inept on a slow moving river as it is with a bit of surf play. It's tracking ability is also quite impressive for an all around board. This is thanks to all three Fins being removable. This is huge because you can essentially change the setup to suit the different water conditions.
If you want the board to track well in open water you can use all three fins, while if you were wanting to paddle in the shallows you can remove all the fins. I will say that it is usually a good idea to keep at least two of the smaller fins on as this greatly helps tracking ability. Without any fins the board will not track nearly as well.
In terms of Speed the Adventurer 2 has this one beat. This is because of the Adventurers narrower shape and longer length. In Terms of Set up though the Weekender has the advantage because of it's interchangeable fin set up. The Adventurer 2 does not have removable smaller fins.
The Weekender has a 275 maximum weight capacity which is about 75 lbs less than the Adventurer 2 making is a bit more ideal for smaller people.
The Ten Toes Weekender is about as all around as you can get with a SUP. Nothing really makes this paddle board stand head over heels over other I have review but it is reliable in most categories which makes this a great all around board.
In terms of features you get with this board it's similar to the Adventurer 2. You get the standard Paddle, Fins and Pump that you would expect but at least it is enough to let you get into the water ASAP. The board also features standard bungee deck lacing, D rings and a handle at the center of the board.
Despite a few quality anomalies with this board most customers that buy it end up being extremely happy with their purchase and point to it's ease of use, bright colours and stability as major factors of buying this board.
Bodies of Water
Great in Coastal and Lake conditions. Excels in both Deeper and Shallow Water Provided the right Fin set up.
Pros
Choose your colour! Comes in 5 Different Bright colours

Is the definition of an All Around Board, does everything well

Track Better than many All Around Boards

Interchangeable Fin Set up allows customization to deep/ shallow water

Easy to Set Up

Great Board for Beginners

Great Looking Board

Two Year Warranty on Materials
Cons
Could come with more Accessories such as back pack

Not the best board for Big and Tall individuals because of it's weight limit

Accessories specifically the paddle are not made with the strongest quality
See The Full Review Here 
Features
Includes Coil Leash, Backpack, pup, Fin and Aluminum Paddle

Diamond Traction Pad

Nose Handle

Made of Military Grade PVC

5 D Rings

Bungee Deck Lacing
Made by one of the major paddle board companies Isle, it is aimed at bringing value while contributing high quality elements that make Isle Paddle boards so successful. It's overall quality is on par with the above two boards but brings a bit extra to the table.
The Isle Peak is the clear winner here when it comes to Accessories as it comes with everything you would need and want with an inflatable paddle board. Many Inflatable Paddles Boards like the Weekender and Adventurer 2 Come with a fin, paddle and pump the the Peak goes a step further by introducing a backpack and coil leash to the mix. The backpack is nothing to snuff at either. It is actually quite well made and is more than durable enough to absorb wear and shifting of the board.
When rolled up the board is also the lightest at 23 lbs and takes up the least amount of space. While you may not think too much about it, space is key for inflatable paddle boards and is often under looked. The inflatable board I bought takes up a lot of space, there is no way I can fit it in the closet so it has to stay in the trunk of my car. Looking back, if I bought this SUP I probably could of fit it with the food and friends I had in my car to go to the lake! Dang!
If you are looking for a board that you can buy and, not have to purchase anything additional the Isle Peak Isup would be the one to get. Where this board starts to drop off is the on water performance aspect.
The Above two Paddle Boards provide the three fin setup which allows your board to track better and adjust to the different water conditions. With the PEAK is just has one fin. While the one fin does provide decent tracking it will not track or perform as well as the Adventurer 2 and Weekender. You can also tell that this is the lower end model of Isle because, it's paddle is cheaper made and, it only has the one fin while Isle All Around Inflatable comes with a carbon shaft and the three fin setup. That being said the Isle All Around Inflatable is more expensive.
The good thing though, is that both Isle's Peak and All Around Inflatable are made with the same board material which really should be the most important factor. I would much rather an inflatable paddle board cheapens out on things like a paddle or a pump then the actual board quality itself.
If performance does not matter to you very much then this is a solid board to purchase. Similar to the Weekender is is great for all purposes such as All Around , Recreational , Yoga as well as even fishing use. You can use this board for touring purposes as well but, there are better inflatables for that.
If you are looking to use this board for fitness purposes such as yoga it would be the best pick out of the top two because, of the amount of area the Deck Pad takes up. Looking at it  the deck pad takes up at least ⅔'s  of the board which in turn gives you more confidence not to loose your footing on the board while doing those complicated poses like downwards dog.
At the End of the day the Peak inflatable Paddle board is a good pick because it is made of the same high quality materials as it's parent company while, giving you a larger than normal deck pad for activities (So many Activities!) such as Yoga or even joy riding with your best furry friend around the lake.
Bodies of Water
Prefers Calm water but can be at home with coastal water conditions. Recommended that you use this paddle board for deeper water conditions due to fin.  
Pros
Takes up less room than many other Inflatable SUP's

Made of the same High Quality Materials as Parent Company ISLE

Larger than Normal Deck Pad makes this a good Yoga or Tandem Board

Comes with a Wide Range of Accessories including High Quality Backpack

The Paddle colour matches the board which is pretty cool

One year Warranty on Materials

Lighter than many Inflatable Paddle Boards

Smaller backpack gives you more room to play with when storing the PEAK
Cons
Does not Track as well as Adventurer 2 and Weekender

Only has One fin set up

Some Complaints about the quality of the paddle

Not a particularly fast Board for the Water
Features
Made of Military Grade Drop Stitch Material

Comes with Backpack, Paddle, Pump, Fin, 10' Coiled Leash as well as Repair Kit

Six D Rings

Bungee Deck Lacing

Middle Handle

Go Pro Mount

One Year Warranty on Material Defects

Five Year Warranty on Repairs
If you frequent this site you will notice that I have reviewed the touring model in quite some depth, so why is it not on here and why did I go with the 10' instead?  The Xterra Touring 12.6' board is a great board and it does fall under this price range. However it is a touring board which makes it less stable and harder to get used to, especially for a beginner. Chances are if you are reading this article you are in the beginning or intermediate stage of your SUP journey.
The Xterra 10' inflatable SUP is a bit of a hybrid between a standard and touring paddle board. The shape of the board is that of an all around recreational board but, it does offer great in water performance. The board paddles very smoothly and tracks well for a board of it's price thanks to the three fin setup that is provided. If you take a look at the Xterra Boards Comparison chart this one falls under the cruising and surfing category meaning if you are a beginner this will be a board that you will have to get used to a bit. Let me explain.
This board is 30" wide and while it is more stable than it's 12'6 cousin it is not the most stable board in this list. I have seen a few videos of people brand new to paddle boarding having a bit of trouble with balance on this SUP. Having said that though I would much rather have a paddle board that can grow with me rather than one I master and outgrow. That is to say that I would rather practice honing my skills with a more difficult paddle board as opposed to buying a super stable board only to not be able to go very far. It's one of the reasons I jumped straight into getting a touring board.
The closest comparable on this list to the Xterra 10' Inflatable SUP is the Ten Toes Weekender. Both have very similar dimensions but the main difference is the Xterra is a bit more performance based. The Weekender works best in shallower and calmer conditions and can hold more weight as well as gear. That's because the Weekender's maximum capacity is 25 lbs heavier than the Xterra and 6 of the 5 D rings are designated to it's front bungee deck lacing. Xterra has 6 D rings but only 4 are designated to bungee storage.
Out of the boards in this category the Xterra 10' inflatable paddle board is probably best suited to rougher conditions. It is just as durable, if not more so than the other inflatable sups (as seen with the car driving over it) but it also seems to excel in the ocean, making it a great board to travel around the coasts with. You can also surf smaller 3-4' waves with this SUP which make it a fun SUP to paddle in a variety of different conditions.
Now let's talk about this board's features. Looking from afar this board seems to look standard if not a bit more heavy duty compared to other boards we are reviewing. Yes this is true, the Xterra is about as durable as they come but in this package it also comes with a good amount of features. Coming with this board includes a pump, paddle , backpack, coil leash , fin and repair kit which is just as much as the PEAK inflatable. While the Paddle seems to be the same quality as the above SUP's it's backpack could be constructed better. The Board I purchased comes with the same style of bag, and while the concept of mesh netting to help dry the board out quicker is appreciated, it makes it more flimsy. The two supporting fins, when rolled up tend to stick out more which can puncture the mesh netting and ruin the bag.
Another query I have with this board is its pad. I think Xterra Cheapened out a slight bit when it comes to the grip pad because if you look at the other SUP's they have diamond groove grip. The Xterra has straight lines on it's grip pad which when wet can bet more slippery than diamond grove grip.
Overall if you are looking for a performance SUP that does well in coastal conditions across the world and is durable enough to handle them this is a good board for you. Despite it's little quirks here and there, the Xterra is a quality board that comes with more than what you would need it for. It also comes with a pretty nice price tag as well. A bonus to getting this SUP is if you are a Go Pro (or the less expensive faux pro like I have) owner. The Xterra 10' Inflatable SUP comes with a Go pro mount which is great if you are the kind that likes to record their adventures!
Bodies of Water
Can do them all, but is best at home in coastal waters. If you are looking for a bit of surfing this board is not a bad pick either.
Pros
Affordable Price

Great Paddle Board for Coastal Conditions

Can do some surfing with it

A good amount of items included like backpack, paddle, coil leash, fin

Very Durable (as you can see a car ran over it)

Quick Inflation Time

D rings located at front and rear are great for safety or tieing up to a dock

Great for paddling longer distances

This board has good tracking perfomance
Cons
Grip Pad is not the grippiest

Backpack quality in question (because of the mesh)

Paddle will probably not last as long as the board
See The Full Review Here
Features
Comes with Backpack, Fiber Glass Paddle, Pump and Coil Leash and repair kit

Paddle is made of Fiberglass

2 year warranty on materials

Eleven D Rings

33" Wide

Middle Handle

Can hold weight up to 350 lbs
The iRocker Cruiser 10'6 board is an ultra stable beast. That can only be good news to beginners who want to enter the world of Inflatable Paddle Boards. The iRocker Cruiser is a gigantic 33" Wide and has a slightly wider tail than other SUP's on this list. Another great thing about this board is that it can support up to 350 lbs which makes it a great board for taller/ heavier paddlers who are just starting out.
The iRocker Cruiser lives up to it's name in that it is not going to go anywhere fast anytime soon. This may sound a bit harsh but the way it is designed the extra wide width of the board definitely gives it a bit more drag in the water. Being wider has it's advantages though. The iRocker Cruiser would probably be the best board on this list for fishing for several reasons. One It's wide tail and extra width allows it to be as stable as possible so you don't have to worry too much about rocking it when casting. Two the iRocker Cruiser also has a separate kayak bundle that you can purchase. This allows you to get to your fishing spots quicker while being able to sit or stand while you cast.
The Cruiser SUP would also be a prime candidate for Paddle Boarding Yoga. It's Wider stance definitely gives PEAK a run for it's money. It also appears to have just as much grip pad surface area as the Peak as well.
In terms of tracking ability the iRocker Cruiser does a good job despite being a wider board. Wider boards typically do not glide as well across the pond but the Cruiser has a 3 fin setup. This 3 fin setup allows the board to stay a straight course while you paddle.
You also do not have to worry about the durability of this board, it actually has a triple layer of military grade PVC  with drop stitching that allows you to scuff over rocks or any hard surface really. Not that you would want to do that on purpose but, as you know the water can be a harsh mistress as a sudden bump can come out of nowhere in the shallows.
iRocker gives you a good amount of quality extras to go with your Inflatable SUP including a paddle, higher quality backpack, coil leash, repair kit and a tracking fin. If you read my previous review on the Xterra 10' you will already know that a good quality backpack is an often under looked and undervalued quality. Believe me though, it is just as important as any of the other accessories that it comes with and you will come to realise the value of one when you are lugging it around for a while on a hike or excursion.
Another feature that stood out (that I almost missed!) is that this board has 11 D rings! Yes 11! You may be asking yourself what could I possibly use those extra 4-5 D rings for? Well these types of features are greatly appreciated by fisherman and kayak hybrids alike. The extra D rings that are in the middle of the board act as a tie down for things such as coolers and seats (which is an extra add on you can do with this board). You can simply use a bungee or ratchet strap to secure your cooler and or tackle to avoid it from going overboard. This is a feature that none of the other boards on this list has.
Although truthfully I would have a set of the D rings a bit further down towards the tail of the board. I say this because in the place it's set at now it forces the paddle to move further up on the board from where they should be, but hey, that's just me.
Overall if you don't have your sea legs yet or want to start paddling with the goal of yoga or fishing in mind this is probably your board. In terms of value this is probably one of the better packages because of it's included accessories and high quality bag.
Bodies of Water
Calmer bodies of water. Most at home in smaller lakes and calm rivers but can be used in calmer coastal conditions. I would not use this for touring purposes though because it is slower than the other boards reviewed on this page.
Pros
Probably the best board on this page in terms of stability

Lots of Accessories included in this package

Has Eleven D rings which makes customization possible

Ideal for Yoga and Fishing Enthusiasts

Backpack and Fiberglass paddle are higher quality than other packages

Comes with Coil Leash

Great for Taller and Heavier Paddlers who are starting out

Nice looking design

Has great all around customer reviews
Cons
Probably the Slowest board here

Not great for surfing

Not great for Touring purposes

Only Comes in the one colour
See The Full Review Here
Best Cheap Inflatable Paddle Boards Under 500
Features
Nine D Rings

Three Fin Setup

Middle Carry Handle

Diamond Grove Deck Pad

Comes with Adjustable Paddle, Handpump, Backpack Storage, Leash and Repair Kit

Made of PVC

Maximum Capacity at 275lbs
The Serene Life Inflatable Paddle Board certainly has rave reviews from many customers. When you first look at it it does not look like anything particularly special. The board design does look plain and a bit cheap. However the price appears to be about as good as you can get from an inflatable paddle board. The Serene Life paddle board comes with a good range of accessories including a carrying bag, pump, fin and aluminum paddle as well as Coil Leash and Repair Kit. Did I mention how good the price is on this ISUP?
The accessories that come with it do not look like they are made of the highest quality materials but hey, you get what you pay for. One thing that does stick out with this paddle board package is the custom design on the fin. It's a great idea and I am really not sure why none of the bigger manufacturers do this. Not only is it cool to look at but it also stands out, if you happen to lose it chances are you would be able to find it again (provided it is not in 60 foot deep water).
What this board does have going for it as well is the four extra D rings located on the Mid- Sides of the board. This allows you to attach a cooler or kayak chair to the board if you are not interested in standing the entire journey.
Perhaps the thing that surprised me the most is all the positive reviews directed towards this SUP. I cannot find anything about the Serene Life Paddle Board that features less than three starts which is pretty remarkable for a smaller brand.
Performance wise this SUP is ok for beginners. Yes it is almost half the price of the above SUP's reviewed but it is 30" and is a bit tippy. Really that can be seen as a good and bad thing in my mind. The good is that your body gets used to the handling of the board which will allow you to advance to better boards such as touring down the line. The not so good is, well you fall in the water.. This should not be a big deal though because at some point if you own a SUP you will fall in the water! Just be prepared with the right gear to match the conditions.
Despite the tippiness of this SUP the diamond traction deck pad and the 3 fin setup gives this SUP pretty good all around speed and manoeuvrability.
Bodies of water
I would limit this SUP to calmer Coastal Bays, Lakes and Slow moving rivers.
Pros
The Price and What you get for it

Comparable with more expensive SUPs in terms of Speed and Maneuverability

Comes with everything you need to get in the Water

Has a Three Fin Setup

Middle Removable tracking Fin has a unique design

Has rave Customer Reviews

Can be customisable with Kayak Seat and mid-board D Rings

Very Lightweight weighing in at 19 lbs
Cons
Not the most Stable board for Beginners

Not the best board for Heavier and Taller Individuals

Serene Life is a manufacturer that mass produces many things(not specialised with paddle boards)

I would be slightly worried about the quality of materials, it just mentions PVC..

No Brand Website at all
Features
Made of 1000 Denier 3 ply PVC Reinforced Fabric

Comes with Carrying bag, Tracking Fin and Pump

Middle Handle

Five D Rings

Three Fin Set Up
Running off of the point that some inflatable paddle boards do not go too much into details about the materials used this one does! Look at the Diagram below!
The Solstice Bali is made of 1000 Denier 3 ply PVC Reinforced material or double overlap drop stitch construction. While not Triple Military Grade PVC this method does do the job. Having said this the board is only 4" thick which pales in comparison to the 700 and under boards that are at least 5 ½ " thick and up. As a result this board will produce a bit more sagging in the middle which will produce significantly more drag on the water.
Despite the Solstice Bali being 4" thick it is relatively stable. At 32" in width the Bali does provide a bit more of a stable platform than other inflatable SUPs. Although 4" spread out over 32" makes the board a bit more flimsy than if it were spread out over 30". Since this board is 4" thick the weight limit would probably be in the range of 200-250 lbs. Which is not ideal for bigger or taller folks.
The Bali's on water performance is comparable. It has a three fin setup, and can track better than a board with one fin. The only problem is that the one fin on this board appears to be shorter than other fins which makes a bit of a difference in terms of tracking ability.
In terms of features you are a bit robbed. Yes it comes with a backpack, find and pump but there is no paddle or leash coil that comes with it. The biggest thing is that this board does not have an deck bungees that come with it! As a result I have seen some people use actual car bungee cords being hooked on the front. This is far from ideal as I do not believe bungee lacing costs the manufacturer all too much.
Bodies of Water
Can be used in most but be wary that your board and your butt (if you choose to sit) will get wet.
Pros
Mentions Materials used in board

Can be used in most bodies of water

Great if you like sitting lower in the water
Cons
Features seem cheap

No Paddle, Bungee Deck Lacing or Leahs Coil

Only 4" thick which makes the board sag

Quality issues with some boards after a year

No Manufacturer Website
Features
Comes with Carrying Bag, Paddle, Pump and Fin, Valve Wrench

Five D Rings

9'9" Length

Can Hold up to 240 Lbs

5" thick

Bungee Deck Lacing
The Pathfinder inflatable SUP is the smallest board on our list at a length of 9'9". While the Pathfinder is 5" thick it's 9'9" frame helps compensate for this so that the board can still perform well in the water. One thing I will say however, is that it is only rated to 240 lbs. In fact I will just say rather bluntly that if you are a bigger person you should probably look else where. Boards that are in the 9' and 30" width range are built for smaller folks.
Admittedly the Pathfinder SUP is actually the sister company of Vilano Bikes which makes Paddle Boards as well. This is a way for these types of companies to test the water before actually putting their branding on to see what works.
The PathFinder's on water performance is decent but tracking ability is a bit of an issue with this board. A single fin setup will do that. Coupled with the fact that the board is only 9'9". Having said this shorter boards are typically more manoeuvrable, specifically in calmer surfing conditions.
The board bundle itself comes with a carry bag, pump and paddle, none of which are of particularly great quality but at the price that this package is available at, the board is pretty solid and it does have the backing of a name brand behind it in Vilano.
Bodies of Water
Good in calmer conditions but can be used as a surf paddle board for smaller waves along the coast.
Pros
The board constructions seems to be pretty solid

Great board for shorter people

Backed by name brand Vilano

Price is pretty reasonable

Maneuverability on this board is good
Cons
Some complaints about the quality of accessories

Some complaints about the valve stems of the board

Tracking ability is not the greatest

Not a great board for bigger and taller people
Features
Double Wall Drop Stitch Material

Honeycomb groove EVA Deck Pad

Comes with Fin, Bag and Pump

12' long

5 D Rings

Bungee Deck Lacing
I decided to choose the Aqua Marina Monster for the fact that you get more for your money. That is you get a 12' inflatable Paddle Board for under $500 which is pretty much unheard of. I also choose to do a review of this SUP because it features a maximum capacity of 352 and is rated for people who weight 265 lbs and under. In laymen's terms this is a great SUP for bigger and taller individuals who may have trouble balancing on SUPs that are rated at the maximum capacity of the 250-275 range.
As you can imagine this board wins at stability. At 32" thick and 12' long you can feel comfortable being on the water and not second guessing yourself in terms of balancing. It gives folks of the taller and bigger variety more support while paddling the waters.
In terms of on water performance you will most likely not be winning any races anytime soon with this board even though it does have a more slender profile than many all around boards of it's size. It is also a more difficult board to manoeuvre because of the added length, but the rule thumb with paddle boards is usually more length= less manoeuvrable, less length = more manoeuvrable.
The tracking ability of this board is pretty good, thanks to it's length but, could probably be improved with a three fin setup.
In terms of features this board does not come with any surprises, mostly the standard , bag, fin, pump and of course the board. It would be nice if the folks from Aqua Marina would include a paddle as well though.
Overall this is one of the better quality under 500 inflatable paddle boards. It has a brand behind it , some reputable reviews and a good amount of information on its website.
Bodies of Water
Can take on most bodies of water including coastal and calmer lake conditions.
Pros
Great for people who are taller or heavier

One of the few 12' boards under $500

Has great stability thanks to its size and width

Could be used as a good fishing SUP
Cons
Could come with more accessories

Probably not the best board to surf with (Little nose or tail rocker)

Not the fastest Paddle Board out there
Features
Comes with Kayak Seat and Backrest

Aluminum Oar (Both kayak and regular Paddle extensions)

Bungee Deck lacing

Comes with Travel Bag and Pump, Foam footrest

4" thick

Three fin setup
The first thing that will stick out at you is the fact that it has a kayak seat and foot rest. So what is it a kayak or a paddle board? Well it's mostly a paddle board but the fact that it includes a seat on foot rest is a great idea. I know from experience on my board I don't always like to stand as after a long period of time my feet can get sore so often times I find myself sitting on the board. It is a cool idea but there are other boards that are higher quality in construction that feature the same thing. Still though the fact they included it with the price being offered definitely says something.
In terms of on water performance this board has a bit of a hard board feel to it in that you are not as high up as today's standard of inflatable paddle boards. This is because the board is 4 inches thick which is 2 off of the industry standard of six. As a result your feet (or butt) will be getting wet!
The HydroForce White Cap SUP is stable though, thanks to it's 32" width and 10 foot long build.
You may notice that this SUP has three fins so the tracking performance must be pretty good right? Well, I mean three is better than none but no the tracking ability is not the same as other three finned paddle boards. This is because all the fins are the same size! The whole point of the three fins is to have two fins on each side as support and the one main one in the middle to be significantly larger. The longer the middle fin is the better the paddle board will track.
In terms of quality this board is alright for the price but there are several complaints about it leaking from the valve, the paddle being relatively low quality and breaking as well as the bag not being able to fit all of the items properly.
The lesson with these boards under 500 is that really, you get what you pay for, as you go lower down in the price, there is a good chance that they use lower quality materials which means that the board will not last as long as you the customer would of liked. If you do want a SUP to just get your feet wet (literally!) to, see if you like the sport than this is a decent one to start off with.
Bodies of Water
I would stay in calmer lakes and bays with this SUP because of its 4" thickness.
Pros
Inexpensive and fairly priced

Can be used as a kayak hybrid

Comes with the kayak seat and paddle

Has diamond grip traction pad

The board is pretty stable
Cons
Only 4" thick

Middle tracking fin should be bigger

Tracking is not too great

Not the best board for bigger people
Basic Inflatable Paddle Board Principles
Length
The Longer the board is the quicker it is. Longer Paddle boards tend to glide on the water quicker than shorter ones.

The Longer the board is the less maneuverable it is. It is harder to turn a 12' board than say a 9 or 10 foot inflatable SUP.

Beginner and Intermediate Paddlers are best to go with ranges of 9'9-12'6 paddle boards. All the Boards reviewed here are in those ranges

Longer Boards generally track better although that is not the only factor in tracking ability
Width
Wider Boards mean more stability. A 32" board would be better for a beginner than say a 28" board.

Wider Width also equals more drag. As a result wider boards are usually slower than skinnier ones.
Thickness
Many Good quality Paddle Boards are now 6 inches thick. This is because they keep you higher out of the water and keep shape better.

Boards that are less than 6 inches thick will usually not be as firm
Nose and Tail Rocker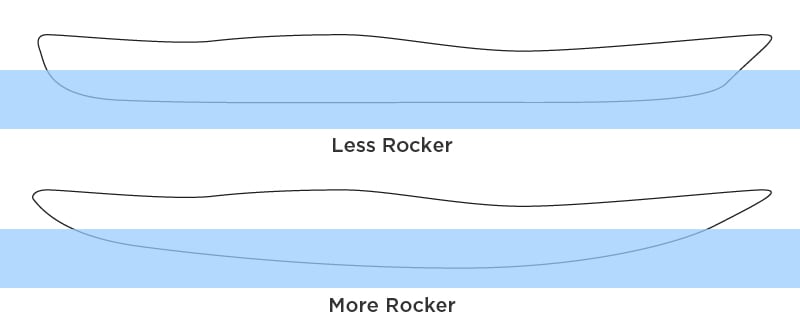 While not the most important factor when choosing a board it does make a difference.

More Tail and Nose Rocker means that the front and rear of the board point upwards.

Having more Nose Rocker is ideal for for more wavy conditions.
All of the boards I have reviewed on this page are All Around Boards. I did this because these are usually the best boards to start off with. If you are up for the challenge and a steeper learning curve check out my Best Paddle Boards page. I review a variety of different types of boards such as Touring, Inflatable, Surfing, Yoga, Fishing as well as All Around boards.  
Derek is a keen water sports enthusiast who has over 20 years of experience in canoes, kayaking and more recently paddle boarding. On weekends he can usually be found on some sort of floating device be it a kayak, paddle board or even a floatie on his lazy days.
Some of his favourite memories include: snorkelling in Cozumel, Mexico, paddling with seals in White Rock, Canada and trying SUP Surfing in Tofino B.C. . When he is not working on his website or paddling he enjoys motor sports and ice hockey.