>>Check Price on Amazon<<
If you are looking for a good, strong, durable inflatable paddle board which is ideal for a tall and heavy person, then you should definitely check the Xterra SUP 10 foot board.
The Xterra is a well-reputed name in the field of inflatable paddle boards. They were in the scene right from the time inflatable stand up paddle boards started becoming popular.
The XTERRA recently introduced the 10-foot long stand up paddle board for recreational paddling. Though it is smaller than their 12-foot board, it is still easy to use by tall people.
You are able to balance easily on the board since it is 30 inches wide. This makes it very beginner friendly.  The thickness at 5.5 feet too is a bonus as it makes sure that it won't submerge in the water and get you wet. You can use it in any season and the board won't duck under the water.
Who is the Xterra SUP best for?
The Xterra inflatable SUP package  is an excellent stand up paddle board for a tall or a heavy person. Since it can carry a weight of 250 pounds it can easily carry a heavy person. It is 10 foot long so can easily accommodate a tall person. It is reasonable when it comes to price and the width of 30 inches makes it steady so it is great for a beginner.
Feature Analysis
A few of the Noteworthy features are as below:
Durability
The best feature of the Xterra is that it is very durable. It is made with rigid drop stitch technology and has double sided reinforcement. In addition to that, the board is made of military grade materials. This makes the board very strong and durable.
Bungee system
The bungee system in the Xterra allows you to tie down bags or other gear which you want to bring along with you on the journey. This is an excellent board for touring so having the bungee system allows you to carry extra gear easily. The bungee system comes pre-built into the board. You don't need to spend any time or effort in installing it.
Anti-slip deck surface
An added boon for a beginner, the deck pad of the board has an anti-slip surface. This reduces the chance of you slipping. The grip is firm but gentle so you don't feel it rough on your feet.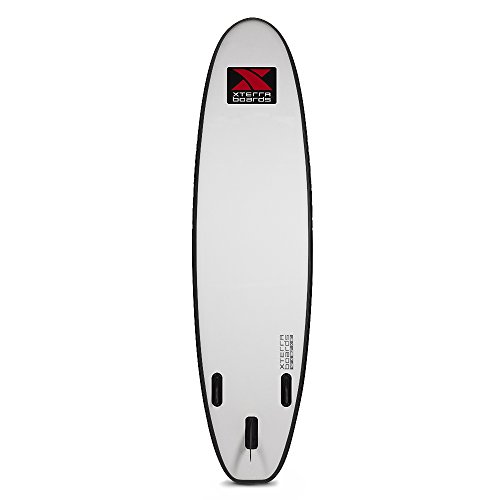 3 fin system
The fins are a great addition to the Xterra SUP. It helps you get more control over the board. You can either add them to get better tracking or remove it for more mobility. There is one larger fin and two other side fins which are optional.
Accessories
The package bundle which comes from the Xterra has everything that you would need. Right from a board leash and paddle to a double-action hand pump with a pressure gauge for inflating the board, you won't have to buy anything. Considering the price of the board, the additional accessories that you get for free is great as the quality is excellent. You get an adjustable paddle, removable center fin, 10' coiled leash, D-rings for securing gear, GoPro mount, large backpack, and a repair kit
1 month/1 year/5 year warranty
The advantage of the Xterra is that they have a 30-day refund policy. In addition to that, they will cover any defect in workmanship or material for one year. There is an additional five-year warranty on repairs.
Pros
Reputed brand with a long history in the inflatable stand up paddle board business

A capacity of 250 pounds

All required accessories

Easily supports tall and big people

30 days money back guarantee, one-year material & workmanship warranty and a five-year repairs warranty.
Cons
Speed

The pump is a bit difficult to use once you cross the 10 PSI marker

Average look with only one black/red color
Bodies of Water
The Xterra can be used in different conditions and water bodies. It is an all-purpose stand up paddle board. It can be used best for touring.
Customer Feedback
>>Check Out What Verified Purchasers thought of the Xterra SUP Here<<
The Positive
Some of the common positive points that customers noted when it comes to this stand up paddle board are that it is easy to use and great value for money. The quality of the material is great as it uses double stitch technology and the material used is military grade. This paddle board won't tear easily.
Some Customer notes include:
Well constructed and inflates easily

Cheap price, you can buy two of them at the price of a hardboard

Stable and easy to stand on

Easy to inflate/deflate and is not very heavy to carry at 29 pounds
The Negative
Considering the number of great reviews, the negative reviews are very few. Most of the negative reviews online were from over three years ago where they mention the pump and valves being faulty. They also said that the customer service team was unresponsive. Over the past couple years though; there aren't many negative reviews about the customer service. One flaw is the speed of the board. Also, some mention that the pump is difficult to use once you cross the 10 PSI mark.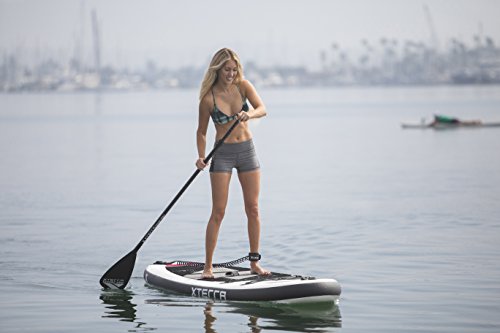 Analysis
The Xterra is an excellent board if you are looking for an all-around paddle board as you can use it in every water body type. The main target market of the Xterra are beginner users however, it is a very good board for intermediate riders too. If you have one board for racing or for touring, you can also use this board as a second all-purpose one.
The construction of the Xterra SUP is excellent due to which it is very durable. The price makes it an excellent deal considering that you also get a host of free accessories along with it. Its length and breadth make it great for balance and steadiness.
Where it Ranks